My Theater
Background....
About ten yeas ago I first started my theater in the recreation room of my basement. I purchased a Sony Super Bright CRT projector. As to my knowledge, at this time there wasn't any consumer 16:9 projectors on the market, at least in my price range. I used a pull down 4:3 Da-Lite Screen and in '96 purchased a Kenwood 5.1 receiver. ($950.00 in '96)
In October of '01 the center gun had lost about 1/3 of the cooling fluid. Due to the cost of repair and then your still left a old projector, I thought it best to update. Now you have got to remember, I just a poor old high school drafting teacher, so I don't have unlimited funds to put into a high end theater.
I purchased a Sony VW11HT LCD HD projector and then of course I needed a new 16:9 screen. I was shopping at Lowe's Home Improvement store and ran across this plastic material by the molding area. I said, "Wow...I bet this might make a nice screen" and the cost of the 4 x 8 sheet was only $13.50. I cut it to size, tacked it on the wall, trimmed it out and all for about $25.00 had a great screen.
I posted my find in the Forum at AV SCIENCE.COM and as of date there has been 128,411 views and 34 pages of reply's. Parkland Plastics manufactures this material and they had so much request that they started making 5 x 8 and 5 x 10 sheets so you can make up to a 120" screen. I made my second screen about a year ago using a 5 x 8 sheet. If you use either of these sizes you will need to build a frame first in order to keep the plastic flat. See my next page on frame construction procedures. This should give you a start.
(Update) I'm using Direct TV, Oppo BDP-103 Blu-ray 3D Player, Epson PowerLite Pro Cenema 6020 projector and a Denon 4802 Receiver using 7.2 DTS sound. This is a copy of my original post on the forum at AV Science.com. I would be most happy to hear your comments or suggestions, Thanks for stopping by, Ron
Updated: 12/22/'12
HDTV Screen – High Quality and Very Low Cost
I replaced my 10-year-old CRT projector with a Sony LCD HDTV model. After doing some research and finding out the high cost of a new screen, I pursued the idea of building my own. My first attempt proved to be better than excellent results with much ease in construction.
I found a piece of 1/16"x 48" x 96" plastic waterproof wall panel at Lowe's Home Improvement Store (cost about $13.50). It has a very smooth, low luster surface, lies perfectly fat and only weights about 10 to 15 lbs. It's manufactured by Parkland Plastics, Inc. in Middlebury, IN, about 15 miles east of my hometown.
I used a multiplier factor of 5.3 for the 16:9 ratio which gave me a screen size of 84.8" x 47.7" (97.29" diagonal) for which I only needed to cut about 11" off the 8 foot side. (A regular pair of scissors works fine)
Since I have a wood wall in my rec/theatre room, I tacked the plastic panel on the wall and trimmed it out using 2 ¼" door/window trim painted satin black. Total cost less than $25.00.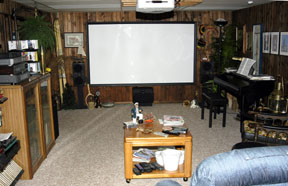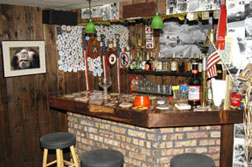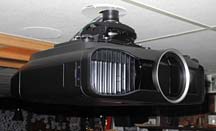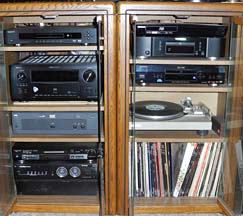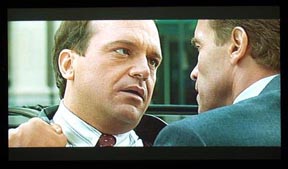 Photo taken of theParkland Screen from a DVD Movie